Meet Your Instructor and the Developer
of Panoltia's Seminars and Workshops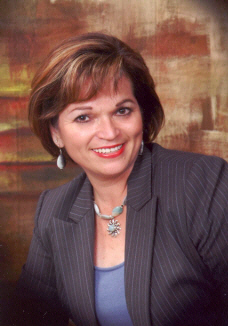 Yasmin Wurts Metivier is the President and co-founder of Panoltia.
She was born, raised, and educated in Mexico, and emigrated to the United States in 1986.
She has lived and worked in several countries in Europe and the Americas, and she is fluent in several languages.
Yasmin is a Master Certified Level 1A court interpreter, and in 1995 she and Eta Trabing of Berkana Language Center in Houston, Texas co-authored the Manual For Community Interpreters and designed the interpreter training for the State of North Carolina. Since then Yasmin has trained thousands of interpreters at all levels, from novices to advanced, all across the United States.
Yasmin holds an advanced degree in business administration and marketing, and before immigrating to the United States in 1986 she was New Services Marketing Manager for Banco Mexicano Somex in Mexico City, Mexico.
She has been the recipient of many awards, including the North Carolina Governor's Award for public service and the Latino Diamante Award for Business. She was also featured as a Woman Extraordinaire by Business Leader Magazine.
In April of 2008 Yasmin was appointed to the North Carolina Governor's Council on Hispanic/Latino Affairs, and she is an advisor to IME (Instituto de los Mexicanos en el Exterior, or The Institute of Mexicans Living Abroad), which is organized by the Mexican Consulate of the Carolinas.
Community Involvement:
Developed and conducted the first survey on migrant farmworker housing conditions in 1988

Interpreter and culture consultant to North Carolina's Governor James B. Hunt on his Mission to Latin America

Worked with North Carolina's Governor Mike Easley and First Lady Mary Easley on Hispanic immigrant issues

Co-developer and instructor for Training For Spanish/English Interpreters In Health Care Settings, a workshop that has been conducted throughout the state of North Carolina since 1995 and is still being provided

Co-developer and instructor for "Training For Interpreters In School Settings"

Conducted focus groups for Farmworker Legal Services on issues affecting migrant farmworkers in the State of North Carolina

Guest presenter at Duke University, UNC School of Medicine, UNC School of Dentistry and Medical College of Georgia

Interpreter and culture consultant at Dorothea Dix Hospital in Raleigh, North Carolina

Volunteer for various community organizations, including Latin American Women's Club, The North Carolina Society of Hispanic Professionals, The Episcopal Farmworker Ministry, Leadership Triangle, and The North Carolina Hispanic Chamber of Commerce

Mistress of Ceremonies for a variety of events, including:

The Latino Diamante Awards

Annual Educational Summit and Annual Conference of the North Carolina Society of Hispanic Professionals

Miss Latina North Carolina, Miss Latina East Coast, and Miss Latina USA

Various HLPT and EPA events
Board of Directors Elections:
Awards:
Outstanding Educational Program award from the Internal Revenue Service for Bibi Talks About Taxes, an audio program she produced in Spanish that educates the new immigrant on taxes in the U.S.

The North Carolina Governor's Award for her work in the Hispanic community

The Latino Diamante Award for Business

Recognized as one of ten Women Extraordinaire in the Carolinas by Business Leader Magazine
Creative:
Creator, writer and producer of The Bibi Series, a twelve part award winning life skills and financial literacy Spanish language audio series

Writer and producer of Managing In Two Cultures and Cómo Trabajar en Dos Culturas, English and Spanish language companion products designed to help American employers and their Latino employees understand each other and work together productively

Creator, writer and producer of "Las Comadres," North Carolina's first weekly radio program in Spanish
Host of Vamos a Conversar, the first Spanish language TV program in Wake County, with interviews and information on community issues.

Host of OPEN-NET and OPEN-NET en Español, live call-in TV programs about services offered by the state of North Carolina, and produced by the North Carolina Agency for Public Telecommunications

On camera talent for UNC TV Festival